Global Coverage:
We are currently recruiting fully qualified medical healthcare professionals from India and the Philippines to fulfil thousands of job vacancies in the UK, Ireland and Europe.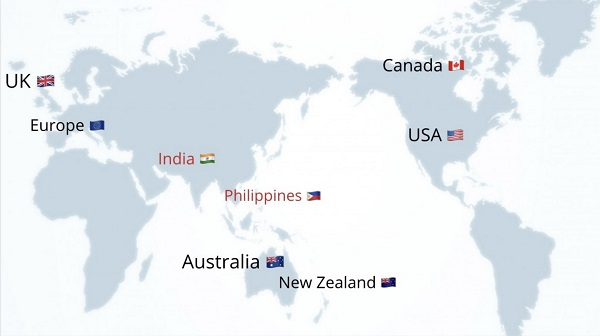 We are also recruiting on behalf of specific healthcare companies based in the USA, Canada, Australia and New Zealand.
For more details about job vacancies in specific countries, send us an enquiry.
We are actively recruiting doctors and nurses for overseas vacancies right now
Professional Requirements:
Doctors: MBBS degree + Minimum 1 year postgraduate experience and completed Part I Plab exam
Nurses: Nursing Degree / Diploma which is internationally recognised
To apply, send us:
Résumé / CV with cover letter
2 professional references (which we can verify)
Full Health Screen / Immunisation history
Clean Police Record
No Objection Certificate
Photo ID & Proof of address
Proof of Nationality / Copy of passport
Evidence of CPD
** PLEASE NOTE - WE WILL NOT REPLY TO ANY ENQUIRIES WITHOUT PROOF OF QUALIFICATIONS
By contacting the Agency with personal information means that you agree to the Data Protection Policy
Additional information for non-EEA candidates:
Tier 2 Certificate of Sponsorship
Applications from job seekers who require current Tier 2 sponsorship to work in the UK are welcome and will be considered alongside all other applications.
From 6 April 2017, Tier 2 skilled worker applicants, applying for entry clearance into the UK, have had to present a criminal record certificate from each country they have resided continuously or cumulatively for 12 months or more in the past 10 years. Adult dependants (over 18 years old) are also subject to this requirement. Guidance can be found here Criminal Records Checks For Overseas Applicants
UK Registration
Professional registration in the UK:
If you are applying for a post that requires professional registration, you will need to register with the appropriate regulatory body. If you are registered in your home country, but do not have UK registration, Blue Light Medical Agency and some NHS employers will be able to help you with this.
International recruitment of healthcare professionals:
The NHS follows the code of practice for the international recruitment of healthcare professionals. This promotes the best possible standards in international recruitment, and discourages any inappropriate practices that could harm other countries' healthcare systems or the interests of those who apply for posts.